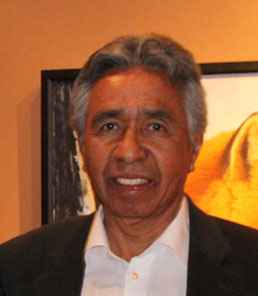 "Indian culture has in the past been ignored to a great extent. It is for me . . . a rich source of creative expression. An intertwining of my Indian culture with contemporary art expression has given me a greater insight concerning my art."
–Kevin Red Star
Kevin Red Star paints his people –the Crow– as warriors, dancers and healers, portraying the culture of these 19th century Northern Plains Indians. Often using historical photographs to capture details, Red Star's style incorporates realism with semiabstract imagery that includes bold gestures and vivid colors. His painting expresses his self-affirmed role as a historian, recorder, and ambassador for his native Crow culture.
Born in Montana to parents active in Crow arts, Red Star attended the Institute of American Indian Art in Santa Fe, New Mexico. Upon graduation, he received a scholarship to the San Francisco Art Institute.
With over 100 exhibitions to his credit across the U.S. and abroad including one-man shows in Paris, Berlin, Tokyo and Peking, Red Star's paintings are included in the permanent collections of the Smithsonian's National Museum of the American Indian, C.M. Russell Museum, Heard Museum, Denver Art Museum, Eiteljorg Museum and the Institute of American Indian Arts Museum, among others.