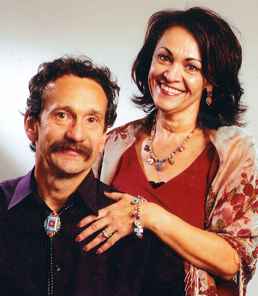 "We are creating expressions of love, beauty and perfection for ourselves and others, using the elements of the earth and sea as they pass from hands to hands in completeness."
–Valerie and Benny Aldrich
Valerie and Benny met while attending Northern Arizona University in Flagstaff. After a few years of marriage, Benny took a basic jewelry class at a community college. That Christmas with little money, Valerie and Benny made jewelry together for Christmas gifts.
As the family grew to include four children, they experimented in bead making and shell overlays. In the 1970s, Valerie and Benny began their full time career as jewelry makers. For the next 25 years, the couple grew their business in Prescott, AZ.
The Aldrich's were among the first to use gemstones for accenting their inlay. They also revived spiny oyster as a jewelry material some thirty years ago. Valerie's creativity and natural flair for color makes every individual piece of inlay a work of art. Each piece of jewelry is completed by hand one at a time. Benny then frames the inlay with beautiful hand stamped silver or gold.
Numerous celebrities and politicians have collected their work including Elton John, Joe Perry of Aerosmith, Tom Selleck, Michael Douglas, and former VP Fritz Mondale.