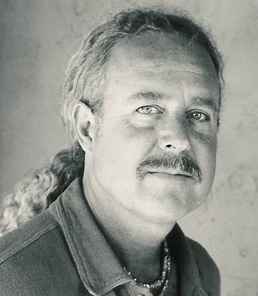 Scott is a contemporary artist who is willing to invest the time and exactitude necessary to produce such fine works.

Scott Diffrient is a forerunner in the world of contemporary bead making. A self-taught jeweler and lapidary and recognized for excellence, his works of art reside in collections of bead enthusiasts throughout the country and are prized as treasured personal adornments as well as highly valued collectibles. The desire to live in a creative and harmonious way, the profound reverence for the beauty into which man was born, as well as the beauty born of the hand of man, have been his greatest inspirations.

Scott has been living and working in the Santa Fe area since 1973, creating jewelry for galleries and private clientele. Santa Fe, like a museum overflowing with art and artifacts from all times and places, has provided constant inspiration. Scott's artistry, enhanced by his love of ancient cultures, imparts an ancient charismatic power to each piece. These "Modern Artifacts" have a life and a personality that mirror the lifestyle and values idealistic to ancient cultures, where human qualities held high esteem. He uses his medium to communicate ideas of purpose and lifestyle to aspire to, including a conscious effort of self-beautification, representing the political and social values of the wearer.