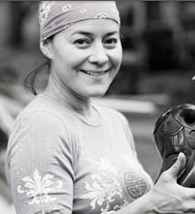 "Having grown up in two very different worlds, with one foot in modern California and another in Santa Clara Pueblo, New Mexico, I draw from two distinct cultures for my inspiration." –Autumn Borts-Medlock

Coming from a long line of Pueblo potters, Borts-Medlock was introduced to the craft at age five by her mother and grandmother, both respected Santa Clara potters. By age 13, she began her own artistic journey with clay. As a child, she lived a life of contrasts, spending most of the year in her mother's home in Santa Clara Pueblo and her summers living in Los Angeles.

Today, Borts-Medlock digs and makes her clay as Pueblo potters have done for centuries. With her pottery in high demand –she finishes only 6-12 clay pots each year– and with limited clay deposits available, she made a bold move. In 2014, she began casting a few clay pieces in bronze. Her limited edition bronze pots, tiles, and sculptures are each distinctly colored with patinas applied by her sculptor husband, Jeremy Medlock, making each a unique work of art.

Borts-Medlock has received numerous awards at the Heard Museum Indian Market and Fair and at the Santa Fe Indian Market.