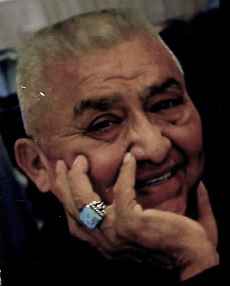 Orville never believed he was particularly artistic. In fact he had never studied silversmithing and was very happy with his job as Assistant Director of Personnel for the Navajo Nation when fate stepped in.

Orville Tsinnie (1943-2017) was 27 when he happened to be visiting his sister Roselyn who was married to Hopi silversmith Horace Emerson. After the visit to his sister, Orville created his first piece, a pin fashioned in the shape of a squaw, which he inlaid with stones. As a Navajo artist, Orville soon pursued a purely traditional Navajo style and his work became known for his hand–fabricated and heavy stamp work jewelry. At first, turquoise was his primary stone with incredible silverwork borders, but Orville continued to expand his designs with the use of sugilite, dinosaur bone, and lapis.

Orville was a perfectionist; hand picking and polishing only the highest quality natural stones which he loved to use when creating his bold, contemporary jewelry. Orville's work is known for its solidness and simplicity. His distinct and stylish creations are rooted in Navajo design, while his work bridges the gap between traditional and contemporary styles.

Born and raised on the Navajo reservation in Tuba City, Arizona, Orville made his home in Shiprock, New Mexico with his wife Darlene. After more than forty years of mastering his trade, he was considered a master goldsmith – an amazing feat for a self-taught artist. Orville won numerous awards, including a Lifetime Achievement award from the IACA.