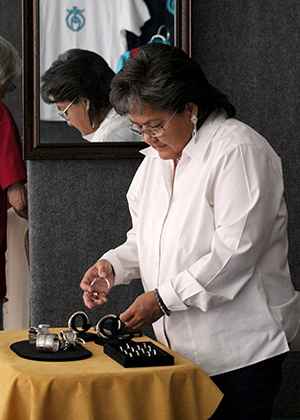 "What my work represents is what I want someone to see in me - that I care about what I make. The awards are great honors, but the most important accomplishment is meeting the standards of my family. I want my work to be as good as a handshake."
–Jennifer Curtis
Born and raised in the Navajo Reservation near Winslow, Arizona, Jennifer Curtis is a sixth generation Navajo silversmith. At the age of eight, Curtis was assisting her father, Thomas Curtis, Sr., an award-winning silversmith, at his workbench. Coming from a family of artists closely connected to their natural environment, Curtis' designs are inspired by her grandmother's weavings and the canyons and clouds that surrounded her while growing up.
Now living and creating in Albuquerque, New Mexico, Curtis utilizes age-old traditional techniques such as hammering and stamping on heavy-gauge sterling silver to craft her jewelry. She enjoys challenging herself to innovate new designs and techniques that speak of her true native roots.
Curtis has won numerous awards at the Santa Fe Indian Market, from Honorable Mention to Best of Division. In 2004, she won the Best of Jewelry Division at the Heard Museum in Phoenix, Arizona.