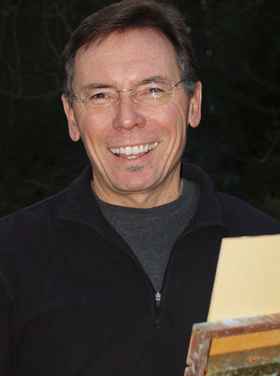 "I see the fingerprints of a creative God all around me — from the last glow of golden light on a mountain to the sparkle of a meandering meadow stream. This inspires me to try to capture an essence of a scene or moment in time, and share that with others." - David Marty

David has been living in, and finding inspiration from the Pacific Northwest, for the last 30 years. A Palo Alto native, his passion for art has taken him from the Bay Area, to Southern California, around the world, and ultimately Washington State.

David grew up drawing and painting, and excelled in art classes. He majored in art at Biola University in Southern California, and then went on to study at Art Center College of Design in Pasadena. Although David's professional career initially focused on graphic design and illustration, he continued to paint. The time spent working on his craft; experimenting with color, loosening and tightening his pieces, playing with texture, absorbing the influence of other artists, attending workshops, and ultimately just painting year after year has helped him become one of the preeminent oil painters on the West coast.

David has been featured in American Art Collector and Western Art Collector magazines and an "Artist to Watch" in Southwest Art Magazine. In addition, his work has been juried into Oil Painters of America, American Impressionist Society, C.M. Russell Art Auction, Salon International and Arts for the Parks Top 100 exhibits.

David and his wife reside in Edmonds, Washington, have five children, and recently were blessed with their first grandchild.