"Ned's paintings ... connect us to the energy, the powerful harmony seen in nature."
- Shanan Campbell Wells
---
Sorrel Sky Gallery Durango will be hosting a one-man show, "The Wild Within," featuring the wildlife paintings of Edward Aldrich. Aldrich pushes past realistic rendering of wildlife, providing a glimpse into the secret world that wild animals inhabit. His animal portraits capture moments in time, that split second before an eagle launches into flight, that slight hesitation before a wolf returns to the shadows of the forest. The show, with several new works, begins on May 3, 2019, at the gallery's downtown location, 828 Main Ave. Opening reception with the artist is from 5:00-7:00 pm during Spring Gallery Walk, on May 10, 2019. The show continues throughout the month of May.
---
Aldrich counts it a privilege to see, explore and experience the landscapes and habitats that his subjects inhabit. "It's an artist's dream."
---
For close to three decades, Ned Aldrich has been creating art that communicates his personal wonder of nature and wildlife. His paintings provide a window into a world that most will never experience firsthand, allowing the viewer to step into that world, and see the wild within. He counts it a privilege to see, explore and experience the landscapes and habitats that his subjects inhabit. "There's so much out there … it's an artist's dream." Always looking to experiment with new stylistic approaches, he has recently been exploring a more contemporary, "brushy feel." This style retains the realism that he is known for while adding an expressiveness that he finds exciting and engaging. During the past year, he has also been working on a series of large private commissions. These stark and intense paintings place white wolves on snow with grey or blue backgrounds. This oversized collection has given Aldrich the opportunity to paint several pieces that are more tonal in nature, and on a scale ranging in size from around 48x48 to 60x60.
Aldrich earned a B.F.A. from Rhode Island School of Design and is a member of Society of Animal Artists and Oil Painters of America. His work is held in permanent collections including Morgan Stanley Inc., Arizona-Sonora Desert Museum, and Wisconsin's Leigh Yawkey Woodson Art Museum. In 2016 he won the People's Choice Award at the National Museum of Wildlife Art. Aldrich annually participates in shows such at the National Cowboy and Western Heritage Museum, the National Museum of Wildlife Art, the Oil Painters of America Annual National Show, and Cheyenne 'Frontier Days' Show. The artist has had over two dozen solo exhibitions nationally. He resides and creates in Colorado.
Shanan Campbell Wells, owner of Sorrel Sky Gallery, commented on Aldrich's wildlife portraits. "Portraiture gives the viewer an intimate, expressive look into the subject. The intent is to reveal their personality and mood, sparking a connection. Ned's paintings do just that. They connect us to the energy, the powerful harmony seen in nature."
Aldrich will also be teaching a three-day artist workshop, Wildlife Painting and Drawing, the weekend of May 10-12. The focus will be to advance knowledge of, and confidence in, painting and drawing animals. This class is for beginners to intermediate.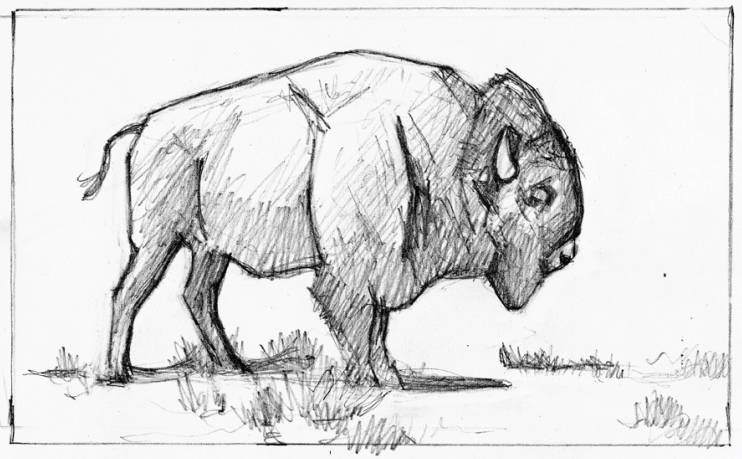 Aldrich sketch for "High Prairie Monarch"